Proper care will ensure a lifetime of beauty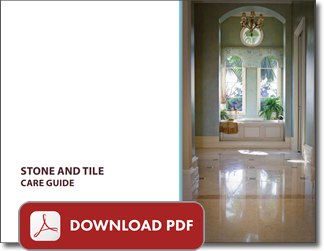 We make it a point to educate our customers on proper stone care. To keep your stone, tile and grout surfaces looking their best, download our Stone and Tile Care Guide and follow some simple but important care instructions.
The most important thing to keep in mind with natural stone is that acidic liquids (wine, orange juice, tomato paste, a whole lot of other foods and just about all the cleaning products you buy straight off the grocery store shelf ) may eat into marble, travertine, limestone, onyx, alabaster and some slates, leaving etch marks.
To avoid damage from the wrong cleaners and to keep your stone looking great, we strongly recommend you use only quality products designated safe for natural stone to avoid etching or dulling from the wrong cleaners. Following are the products we recommend for routine care.
CLEANERS AND FINISHING POLISHES

Product Description: Crystal Clean is an easy to use daily cleaner. It's pH neutral formula is safe for any natural stone surface. Crystal Clean is a rinseless cleaner that evaporates quickly and will not streak or leave water spots.

Use Crystal Clean with confidence on your grante countertop, travertine floor, marble shower, or any natural stone. It also works great on stainless steel and glass making it an excellent, and inexpensive, all purpose cleaner.

Added sealant protecion is what makes Crystal Clean truly unique. It contains our advanced fluoropolymer protectant. Every time you clean you are sealing and protecting your stone surface.

Neutral pH cleaner safe for everyday use
Provides added sealant protection
Fast drying no rinse formula leaves no residue or water spots.
Concentrated (1 Gallon makes up to 10 Gallons of Crystal Clean)
NO scrubbing NO rinsing NO streaking
This product works great on: stone surfaces, stainless steel, windows, mirrors and glass.
Product Description: Finishing Touch is a 3 in 1 product to Clean, Polish and Protect granite and quartz countertops. Also try Finishing Touch on your stainless steel appliances, works great on refrigerator doors.

Easy to use, simply wipe on and buff. Safe for marble, granite, natural stone, glass and metal. Great for homeowners and professional housekeepers. For commercial and residential use.

Enhances the natural beauty and shine of granite
Works excellent on stainless steel, mirrors and windows
Cleans, polishes, protects & enhances color in one easy application
Reduces fingerprinting & water marks
Dries streak & residue free
No build-up on surfaces
Reinforces the sealant protection on polished granite with each use
Safe for use on food preparation surfaces
NOT FOR USE ON FLOORS
Product Description: Deep Clean is a NON ACIDIC highly concentrated Alkaline cleaner for polished and honed natural stone surfaces.

If your stone floor has discolored grout or if dirt and traffic has taken its toll on your floor, Deep Clean is the cleaner for you.

Ideal for residential and commercial applications. Can be used on polished, honed, flamed or tumbled marble, travertine, grout, granite, limestone and all ceramic, porcelain or stone surfaces.

Terrific cleaner for sanded and non-sanded grouts.

Non Acidic, will not harm polished stone surfaces
Excellent grout cleaner. Get the results without using acidic cleaners
Highly concentrated formula
Interior and Exterior applications
Dissolves grease and dirt
Removes water spots
Removes grime, soap scum, hard water spots and food stains

Product Description: Aqua Pro is a water based impregnating sealer. It offers all the benefits of our Advanced Fluoropolymer Protectant in a water based formula. Protects against oil and water based staining.

Aqua Pro is excellent for sealing granite, travertine, limestone, tile & grout, concrete and masonry surfaces.

Non-yellowing and long-lasting. Will not change the appearance of your stone surface. Will not alter proper cure time on new grout.

Surface retains natural color, texture and appearance.
Safe and easy to use – V.O.C. Compliant
Excellent for interior and exterior use.
Provides protection from water and oil based stains.
Protects marble, granite, limestone, travertine, sandstone, slate, tile, grout & other porous stones.
Enhances the color and shine of honed and unpolished natural stone
Easy-to-use one step Color Enhancer and Sealer
Works great on honed, flamed, unpolished and sandblasted natural stone, slate, brick, pavers and concrete surfaces.
V.O.C. compliant
Long-lasting protection from water and oil spills

Product Description: A unique solvent-based, V.O.C. compliant impregnator sealer, which penetrates grout, stone and masonry surfaces to protect against water and oil staining while allowing substrate to properly breath. Non-yellowing, long-lasting. Will add natural color enhancement.