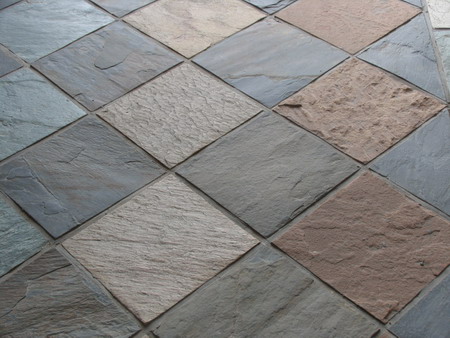 Slate Repair and Restoration
Slate Enhancing, Stripping, Cleaning, Sealing, and More…
Slate floors can be showstoppers — in a good way or a bad way. Beautiful, well-maintained slate creates a positive impression with the perfect blend of elegance and informality, but slate that is dull, chipped, scratched, or otherwise damaged creates quite the opposite impression.
Slate is a unique stone, and restoration methods for slate are very different than that of marble or granite. If you have slate floors that need some professional attention, they should not be entrusted to just any stone restoration contractor.
The highly trained technicians at Tennessee Stone Care have the knowledge and hands-on experience necessary to resolve virtually any problems associated with your slate floors, walls, or other slate surfaces, and can apply color enhancing or topical sealers to achieve the finish you desire.
Slate Cleaning and Restoration
Over time, thick layers of soap residue, waxes, and other topical coatings can dull and hide the beautiful inherent colors and untamed charm of your slate floors and surfaces. We can strip away this dull buildup, as well as the dirt and contaminants it often traps, to reveal the naturally stunning surface underneath.
Slate Repairs
If your slate surfaces have become cracked, chipped, scratched, or otherwise damaged, Tennessee Stone Care can resolve these issues, most often without need of replacement. We can also take care of any grout problems you may have with our deep-cleaning, sealing and repair services.
Cleft Finish Slate Expertise
In the wrong hands, your beautiful cleft slate surfaces can be easily damaged during deep cleaning or restoration. Tennessee Stone Care has the knowledge of and expertise in the proper equipment, techniques and powders needed to ensure the lasting beauty of your installation. We are always available to answer any questions and to discuss the specific requirements of your unique slate surfaces.
Sealing and Protecting Slate
Most — though not all — varieties of slate are virtually waterproof. This may mean sealing your slate is unnecessary, but it doesn't necessarily mean sealing is undesirable. There are color enhancing sealers and coatings which can make the natural colors of your slate surfaces emerge more vibrantly. And, of course, for those types of slate which are not as waterproof as they could be, applying a sealer can further support their resistance to staining agents and weather conditions. Tennessee Stone Care not only provides these services, we are also happy to discuss your specific needs and educate you on the best way to care for your unique slate type and installation. We are proud to recommend and supply stone-safe solutions for your regular cleaning and maintenance needs as well.
For a free estimate on any of our slate restoration services throughout Tennessee, including Nashville, Memphis, Knoxville, Murfreesboro, Clarksville, and Chattanooga and surrounding areas, send us a message or give us a call at (615) 351-4676.